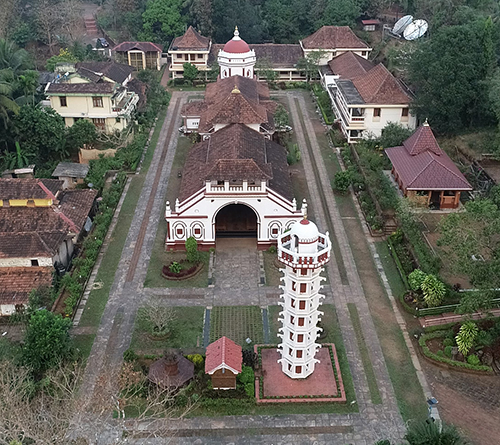 The temple has its origin at Sancoale in Salcete Tatuka .
The Portuguese onslaught on the temples of Goa forced the devotees to flee with their idols to a secure place that accommodated their faith and Ponda was the nearest such place.
It is said that the Saraswats who migrated with the idol of the goddess from Sancaole halted at the Madhava temple in Agapur. Located on the banks of Zuari or Aghanashini. They had decided to build a temple in the vicinity, but due to the predictions divined by the oracle, the Idol had to be shifted to Keri, its present location.
Temple at Keri was built in 1560. In 1797 the present Mandan of the temple was built and in 1819 came the Nagarkhana. The deepastambha and all other facilities were built subsequently.
Kulavis The mahajans are either Gowda Saraswat Brahmins or Dravid/Karade Brahmins. In case of Gowda Saraswhat, they are mahajans of Shree Shantadurga and Shree Laxminarasimha of Gothan, Veling, place situated at a distance of 6 km from Keri. However, in the case of Dravid / Karhade Brahmins, they are mahajans of Shree Vijayadurga only. The Gowda Saraswat Brahmins of Vatsa, bharadwaj. Kashyap, Atri, Kaundinya, Kaushik and Vashista gotras are the mahajans of Shree Vijayadurga, Shree Shantadurga and Shree Laxrninarasimha of Gothan, Veling. The Dravid /Karhade Brahmins of Kashyap, Kutsa and Bharadwaj gotras are mahajans of Shree Vijayadurga temple.
It is a fine example of classical architecture. A beautiful water tank is situated just opposite the main shrine. The deepastambha and the approach stairway from the temple to the water tank conform to the modern style of architecture.
The space beneath the tower is the sanctum sanctorum, where the deity is seated. The long hall in front of it capped with a sloping roof is the mantapa. a kind of reception area where devotees rest or relax. The pillars that support it are splendid and have a balcony on top. The pillars are decorated with figures from hindu mythology.
The deep reds of the kaavi artwork, beneath the sloping roof of the mandap. draw attention to it. It is called Kavikala and is an intricate art form on murals promoted by the Saraswats in the coastal belt stretching from Goa to Karnataka, mostly forgotten now. This art form is monochromatic because it had to withstand the torrential rains in this region and the humid weather.