Daily Services time schedule
Devi Pooja/ Abhishek Timing
7.00a.m. to 9.00 a.m.:- Abhishek

12.30p.m.:-

Aarti

8.00 p.m. :-

Evening Aarti
Palakhi 8.30 p.m.: Fortnightly on Dashami day
7.00 a.m. to 7.30 a.m.:- Morning tea

8.30 a.m. to 9.30 a.m.:-

Breakfast

1.00 p.m. to 2.30 p.m.:-

Lunch/Prasad

4.00 p.m. to 4.30 p.m.:-

Evening Tea

8.30 p.m. to 9. 30 p.m:- Dinner -all days except Dashami(Palakhi Day)

8.30 p.m. to 10.30 p.m.:- Dinner(on Dashami day):
A scheme named as ANNADAN YOJANA was launched in the year 2001 whereby food/prasad is made available to the visitors from breakfast in the morning till dinner at night. The scheme is continuously in operation for all the days of the year.
There are no charges to be paid for this facility but devotees can make voluntary contributions which can be deposited in the donation box placed in the dining hall. Donations for annadan Yojana are also accepted at Devasthan office.
"Kalyan Mandap" is fully modern hall best for grand weddings and other functions. Hall is A.C. equipped. One can book for non-A.C. hall also. Hall has basement, dinning and kitchen facility. One can avail the facilities as per their need.
Various Options provided are:
Kalyan Mandap (A.C./ Non A.C.) Hall
Basement, old dinning and Kitchen
Only Basement/ only old dinning with kitchen
Annapurna Hall with Kitchen
Annapurna Hall & Sabha mandap with Kitchen
Generator for A.C. hall will be provided with extra charges. Hall is equipped with 1000 chairs and 10 round tables for dinning.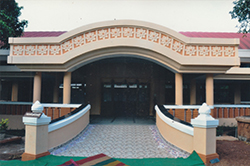 Sausthan offers accommodation to the devotees(only mahajans/ kulavis) who come from other states. Rooms are available at an affordable rate with all the basic amenities for a better experience. Rooms are clean, and furnished with the bed, table, chair and mirror. Sausthan offers different types of rooms AC(Air conditioner), Non-AC (Without air conditioner) Attached and Non- Attached . Devotees can choose the rooms as per their requirements and can stay for days. Since rooms are within the premise of the temple, one can visit the temple anytime.
Room Tariff:
A.C. Room: Rs 600 – 800/- per day.( As per room location)
Non-A.C. Room(attached):Rs. 250 – 300/- per day.( As per room location)
Non-A.C. room (Non -attached):Rs.200/-per day.
The charges are for only 2 members. Extra member for A.C. room Rs 100/person and Non A.C. Rs 60/person.
contact for Bookings & Enquiries